Need to Clean Oil Stains or Fuel Smell From Concrete? Remove Petroleum From Concrete With Petro Buster!
Don't waste your time or money on remedies you are reading about online and buy a Product that was designed for your needs!
These home remedies may cause more damage than good, don't work and make it more difficult for a good product like Petro Buster to do the job correctly
Clean your Oil Stains with Petro Buster which does the job for very little cost considering the value of your property and how much it bothers you !!
Petro Buster makes Petroleum "Water Soluble" by breaking the tension between Petroleum and Water. This allows it to "emulsify" into water immediately. Imagine, dissolving Petroleum into Water! Then we introduce Microbes that naturally consume the Hydrocarbons in Petroleum. If your requirements are as small as simply cleaning and removing Petroleum from surfaces, to large scale Petroleum Remediation of Soil and Water, Petro Buster can help you quickly and in an Environmentally Friendly Way!
It is a Surfactant "Soap" that has been created by Chemical Engineers with Microbes patented by a Scientist. Developed for the purpose of cleaning and remediating Petroleum, yet it is so safe to handle with a neutral PH that you can wash your hands and clothes with it!
This formula was a "trade secret" for many years being used by the Remediation industry and now we bring it to you, everyone and anyone that needs access to such a great product as "Petro Buster".

Works great on Concrete, Asphalt, Stone, Brick, Siding and other surfaces!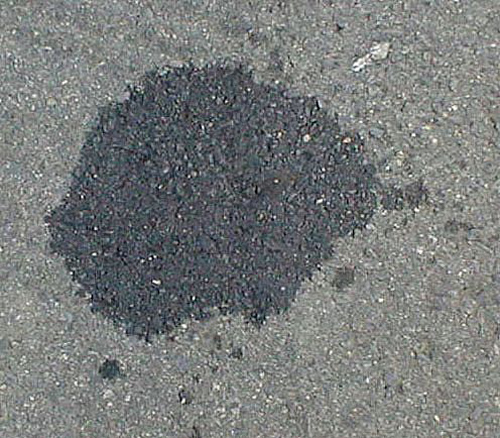 Petro Buster is highly effective at Removing Oil Stains from Concrete, Asphalt, Stone, Brick and many other surfaces. If you have oil stains in your driveway, garage, parking lot or other areas, Petro Buster is highly effective at removing these Oil Stains. Inquire about your stain if not listed here.
Petro Buster is an organic soap / cleaning compound with enzymes and microbes that can quickly remove an oil stain from concrete surfaces. Our powerful formula can quickly break down and remove Oil Stains. Remove those unwanted eyesore Oil Stains!.
It doesn't just remove the Oil Stain from the Concrete and other surfaces. The powerful enzymes and microbes break it down and remove it completely from the environment by breaking the barrier between Oil and Water, this formula lifts the Oil right out of the Concrete. Any Oil that will not lift out of the Concrete will break down as the formula works its way into the concrete and break down the Oil embedded in the concrete.
It is a specially engineered organic Soap that is designed to break the surface tension between Oil and Water. It is an engineered Soap with Enzymes and Microbes that break down the Oil and when scrubbed, lift it from hard surfaces such as Concrete, Asphalt and Stone.
The microbes used are patented by a scientist in the United States. It was developed specifically to be 'highly resilient biodegradable friendly bacteria' that consume hydrocarbons in Petroleum and is safe to use even to wash oil from your clothes! Also Septic & Laundry Safe!
Although, Petro Buster is a powerful Oil Stain Remover, it is designed to be an Eco-Friendly Petroleum Remediation product that is used on Petroleum Pollution in the ground and water.  Petro Buster is also a great Eco Degreaser that is used in Garages and Shops instead of toxic solvents and parts cleaners.

How to use Petro Buster to Remove Oil Stain from Concrete, Asphalt, Stone, Brick & Other Surfaces?
How To Remove Oil Stains & Fuel Smell from Concrete:
Verify amount needed by estimating how much water would cover your area effected. Generally it requires at least 1 gallon of mix for each 10SqFt of Concrete.
Dilute 1 part Petro Buster with 4 parts water
Pour on Oil stain on Concrete – liberally
Scrub firmly with stiff bristle brush until it starts foaming
Keep scrubbing until foam turns brown. That is the surface Oil being removed from the Concrete
Rinse away with fresh water
Repeat 1 to 4 above and then let the product dry in Concrete
You should see the Oil stain fade and go away over next couple hours as it dries
You can wet the area with water to re-activate the Petro Buster and you can ad more Petro Buster if needed and continue this process until clean
How To Remove Oil Stains from Asphalt:
Verify amount needed by estimating how much water would cover your stain(s)
Dilute 1 part Petro Buster with 4 parts water
Spray or pour on Oil stain on Asphalt
Scrub firmly with stiff bristle brush until it starts foaming
Keep scrubbing until foam turns brown. That is the Oil being removed from the Asphalt
Rinse away with fresh water
Let dry and view area and if there is any stain left, repeat steps 1 to 6 above
You should see the more difficult stains fade away over a few days. Rain and Sun will help once Petro Buster has been introduced to the Oil and weakened it's bond to the Asphalt
Asphalt is made with Petroleum tar called Bitumen and Petro Buster will make it come up like new and very black during the process of extracting the oil from the tar. For a short period that area being cleaned may look very black like new asphalt instead of dirty brown from the oil. This will dry and fade back to normal with sun exposure and in time will match the remainder of your driveway, wiothout the stain.

Read Our Customer Reviews
Fixed the fuel leak in our home.
August 4, 2023

We recently had diesel fuel leak from our furnace into our home! The smell was terrible. Two quick and easy treatments with Petro Buster and the smell was gone. Great product. Works as advertised.

Response from Clean Furnace Oil Leaks, Diesel Spills, Gas Leaks, Remediation

Hi Tom, it is great to read this review and learn of your success remediating the heating oil leak at your home in Italy. Also happy to hear that it removed the fuel smell quickly as promised. It was also quite interesting to have an opportunity to send this to Italy and have your contractor learn about it. I appreciate your faith in our Product after our discussion about your situation on the phone. I hope your Contractor in Italy is impressed after having tried other things that did not work and did not have to dig out half your house to remove it. Thanks again for this review, much appreciated! Bill Fligg / President Petro Buster Inc.
Great and not just for fuel spills
July 17, 2023

Hi, I bought Petro Buster for a diesel spill from the garbage truck. It worked great. Then after talking to owner Bill, I used it to remove black marks from a golf shirt that nothing else worked. Then I used it to remove beer stain from carpet that nothing else worked. Thanks

Response from Clean Furnace Oil Leaks, Diesel Spills, Gas Leaks, Remediation

Hi Steve, I love this story and really appreciate you sharing it! This really is a testament to how diverse Petro Buster is at cleaning more than just Petroleum. We have people that use it on work clothes to remove Diesel and Oils, plus others use it to remove stains like Red Wine on carpets which I have no idea exactly why or how it works on Red Wine but truly interesting cleaning product. Hard to believe the range of use from cleaning and remediating Crude Oil, Diesel and Gas soil contaminations and Hard Surface stain removal of Petroleum, elminates Fuel Odors on contact and more. All the Best and thanks again! Bill Fligg / President
petro buster is amazing
June 29, 2023

i had a heating oil tank leak outside on the soil. i dont know how long it was leaking. I would say it leaked maybe 30 or 35 gals. i did not know what to do i was very frantic. i started to look up what to do. well i saw petro buster works on soil spills. i called and talked to bill the owner and he told me what to do step by step he is also one of the nicest people i have ever dealt with. so i ordered 2 pales. i received them and put 1 down 1 gal to 4 gal of water well as soon as i was putting down the smell began to dissapate. when i was finished putting down 1 pale it started to rain wich was great it was washing the buster into the ground which was great. i waited a day and put a little more down and washed it down with garden hose. that was a week ago and you would never know there was a spill execpt for some dead vegation. the owner is the best absolutly no b/s.

Response from Clean Furnace Oil Leaks, Diesel Spills, Gas Leaks, Remediation

Hi Ed, I really appreciate your kind words about me and it is great to hear how well Petro Buster worked cleaning up your Heating Oil (Dyed Diesel) leak in the ground. I take great pride in making sure we provide quick response and work through the cleanup details with our customers from years of experience. Such a rewarding thing to be able to help others with a product I believe so much in. In regards to the dead vegetation area, if Petro Buster was introduced there immediately after it happened, it would have prevented that, however now rest assured you can re-gro anything there including if treated propertly, it being safe for a garden with vegetables that you would eat. Wishing you all the best! Bill Fligg / President Petro Buster Inc.
Best answer for an oil spill !!
January 24, 2023

I had an oil spilled in my basement.

This product instantly took away all the smell and cleaned the cement floor. Results were immediate and incredible service.

Truly an awsome product !!

Response from Clean Furnace Oil Leaks, Diesel Spills, Gas Leaks, Remediation

Hi Brian, we really appreciate your great review of Petro Buster. It is also you our customer that is the hero here because you followed directions, used as instructed and got the results we know Petro Buster can deliver on cleaning up Heating Oil spills and cleaning the fuel smell associated to it. Great job to you as well and all the best! Thanks Bill Fligg / President
Saved our new porch landing
December 9, 2022

We just had a new front porch and landing completed , made of natural stone. A person servicing our generator spilled oil in many spots across the landing. I called Petro Buster and they saved the day! I used their ready-to-go one time and the oil stain was gone. Here are my before and after pictures. Fantastic, thank you.

Response from Clean Furnace Oil Leaks, Diesel Spills, Gas Leaks, Remediation

Hi Judith, it was an absolute pleasure speaking with you on the phone both before you purchased Petro Buster to clean your oil stain and after. It was funny because you said you would find me if it didn't work, and you would find me if it did work. I love that kind of kidding around and really appreciate that you did take the time to call me and tell me how great Petro Buster worked on your stone stairs at the front of your house. I also really appreciate the pictures of before and after that you sent! Thanks again!!! Bill Fligg / President
If you need to remove an Oil Stain from Concrete or any other surfaces, we can help you!
Contact us by phone 1-877-734-8204 or email us any time for advice and information about how to use our eco-friendly Oil Stain Remover from Concrete.