Need to Remove Oil Stains From Concrete?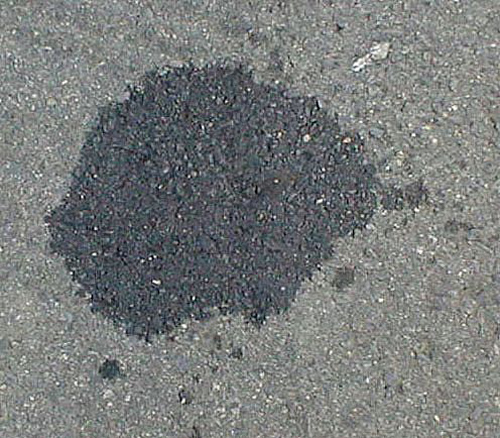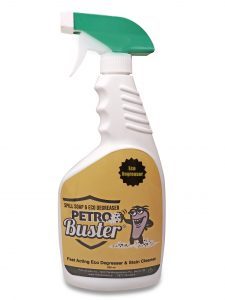 Petro Buster is highly effective at Removing Oil Stains from Concrete.
Petro Buster is a cleaning product with enzymes and microbes that can quickly remove an oil stain from concrete surfaces. Our powerful formula can quickly break down and remove Oil Stains from Concrete. Remove those unwanted eyesore Oil Stains from your Concrete easily.
It doesn't just remove the Oil Stain from the Concrete. The powerful enzymes and microbes break it down and remove it completely from the environment by breaking the barrier between Oil and Water, this formula lifts the Oil right out of the Concrete. Any Oil that will not lift out of the Concrete will break down as the formula works its way into the concrete and break down the Oil embedded in the concrete.
It is a Surfactant that breaks the surface tension between Oil and Water. It is an engineered Soap with Enzymes and Microbes that break down the Oil and when scrubbed, lift it from hard surfaces such as Concrete, Asphalt and Stone.
The microbes used are patented by a scientist in the United States. It was developed specifically to be 'highly resilient biodegradable friendly bacteria' that consume hydrocarbons in Petroleum.
Although, Petro Buster is a powerful Oil Stain Remover, it is designed to be an Eco-Friendly Petroleum Remediation product that also acts as a great Eco Degreaser.
How to use Petro Buster to Remove Oil Stain from Concrete?
Dilute 1 part Petro Buster with 4 parts water
Spray on Oil stain on Concrete
Scrub firmly with stiff bristle brush until it starts foaming
Keep scrubbing until foam turns brown. That is the Oil being removed from the Concrete
Rinse away with fresh water
Let dry and view area and if there is any stain left, repeat steps 1 to 5 above
If any Oil stain remains, repeat 1 to 3 above and then let product dry in Concrete
You should see the Oil stain fade and go away over next couple hours as it dries
Our Clients:
We ship Petro Buster across North America and it is used by organizations such as:
The US Navy
The Royal Canadian Navy
The Canadian Military
Petroleum Refineries
Petroleum Distributors
Remediation Companies
Members of the Canadian Oil Heat Association
Members of the Canadian Independent Petroleum Marketers Assoc. (CIPMA) and many more…
These are just some of the actual US Zip Codes and Canadian Postal Codes of our Petro Buster customers just to give you an idea of how many people, businesses and Government organizations use our product.
Note: We do not show complete addresses to protect the privacy of our customers.

Read Our Customer Reviews
If you need to remove an Oil Stain from Concrete or any other surfaces, we can help you!
Contact us by phone 1-877-734-8204 or email us any time for advice and information about how to use our eco-friendly Oil Stain Remover from Concrete.