Need to Remove Oil Stains From Concrete?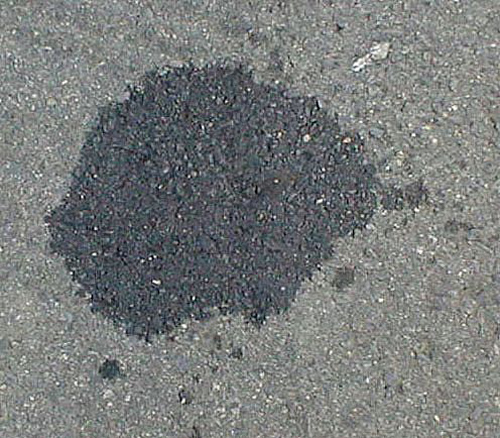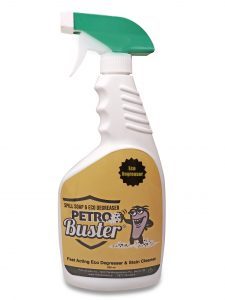 Petro Buster is highly effective at Removing Oil Stains from Concrete.
Petro Buster is a cleaning product with enzymes and microbes that can quickly remove an oil stain from concrete surfaces. Our powerful formula can quickly break down and remove Oil Stains from Concrete. Remove those unwanted eyesore Oil Stains from your Concrete easily.
It doesn't just remove the Oil Stain from the Concrete. The powerful enzymes and microbes break it down and remove it completely from the environment by breaking the barrier between Oil and Water, this formula lifts the Oil right out of the Concrete. Any Oil that will not lift out of the Concrete will break down as the formula works its way into the concrete and break down the Oil embedded in the concrete.
It is a Surfactant that breaks the surface tension between Oil and Water. It is an engineered Soap with Enzymes and Microbes that break down the Oil and when scrubbed, lift it from hard surfaces such as Concrete, Asphalt and Stone.
The microbes used are patented by a scientist in the United States. It was developed specifically to be 'highly resilient biodegradable friendly bacteria' that consume hydrocarbons in Petroleum.
Although, Petro Buster is a powerful Oil Stain Remover, it is designed to be an Eco-Friendly Petroleum Remediation product that also acts as a great Eco Degreaser.
How to use Petro Buster to Remove Oil Stain from Concrete?
Dilute 1 part Petro Buster with 4 parts water
Spray on Oil stain on Concrete
Scrub firmly with stiff bristle brush until it starts foaming
Keep scrubbing until foam turns brown. That is the Oil being removed from the Concrete
Rinse away with fresh water
Let dry and view area and if there is any stain left, repeat steps 1 to 5 above
If any Oil stain remains, repeat 1 to 3 above and then let product dry in Concrete
You should see the Oil stain fade and go away over next couple hours as it dries
Our Clients:
We ship Petro Buster across North America and it is used by organizations such as:
The Royal Canadian Navy
Petroleum Refineries
Petroleum Distributors
Remediation Companies
Members of the Canadian Oil Heat Association
Members of the Canadian Independent Petroleum Marketers Assoc. (CIPMA) and many more…

Read Our Customer Reviews
we are so pleased we are reordering more.
June 6, 2019

We bought a house were a tenant work on cars in the driveway. The concrete driveway was heavily stain with motor oil. I bought 1 gallon of Petro Buster just to see how well it worked. It was applied several times and there is minimal staining left. After Petro Buster had been applied to the driveway scrubbed and rinsed away there wasn't an oil sheen on the water like an oil remover would do. The water was clear. The only reason I gave the rating a 4 we are now going to work on the soil, in some spots it is saturated with oil over 14 inches deep. We bought 5 gallons this time. I will let you know well it worked.

Response from Clean Furnace Oil Leaks, Diesel Spills, Gas Leaks, Remediation

Hi Laverne,
Thank you very much for taking the time to give us this review. We are very pleased to hear you had the success we expect from Petro Buster and we are confident that your 2nd order of Petro Buster will do a great job of cleaning your soil as well.
Bill Fligg, President, Petro Buster Inc.
Worked well on an underground tank leak from years ago
March 8, 2019

We were hired to clean up clients property that was a gas station years ago and had high levels of Hydrocarbons in the ground where the underground tanks were. Other options included digging out all the soil and paying to have it trucked away by an environmental service. We treated the soil with Petro Buster, soaked it well with water afterwards to force the product down into the affected area. Actually the rain we had worked even better. After a few weeks we had another lab test done and it came back below the acceptable level. That made us look good with our client because this approach was much cheaper!

Response from Clean Furnace Oil Leaks, Diesel Spills, Gas Leaks, Remediation

Hi Muneeb,
I really enjoyed working with you on this project and find reviewing all the Phase II study details interesting to develop a strategy for treatment. The old school process of digging huge holes and paying a lot of money to have it hauled away is not necessary anymore. With products like Petro Buster, we have the two punch effect where the Surfactant (Soap) is engineered to break the tension in the molecules between Petroleum and Water. It emulsifies the Petroleum and disburses it in water. The more water the more dilution, the lower the Parts Per Million. From there the 2nd punch is the Microbe action where they actually consume the Hydrocarbons as the plume is disbursed. Our product completely biodegrades to water, oxygen and carbon dioxide when done consuming the fractures of Petroleum / Hydrocarbons leaving no trace behind. Go Green Team!
Thanks again for your great review!
Bill Fligg, President, Petro Buster
Great Customer Service Right From The Chat Online To Delivery!
February 14, 2019

We were looking for a remediation product that could be used to clean a diesel spill in the ground at our Marina at the edge of the water. We found Petro Buster website and it said there was someone available for a Chat. I chatted with them and got all my questions answered right away. We ordered the 5 gal pails of concentrate and it arrived in 3 days through FedEx. We received email updates from both Petro Buster and FedEx until we received it. It has worked great on removing the diesel from the soil and since we have ordered a couple pails to have on hand for emergencies.

Response from Clean Furnace Oil Leaks, Diesel Spills, Gas Leaks, Remediation

Hi Janet,
I'm glad you took advantage of our online Chat feature because so many questions arise when people find our website and we can get the answers they need to them immediately as we did with you. I'm glad you were successful using Petro Buster in removing the Diesel Fuel from the Soil at your Marina. It can be stressful having Petroleum in the ground so close to water. Thanks for taking the time to give us a fantastic review and thank you for being a great customer!
Bill Fligg, President, Petro Buster Inc.
Ordered Monday night, arrived Wednesday
February 5, 2019

I was looking for a product to clean the oil stain in my concrete driveway and this one looked like it would work so I ordered it in the evening on Monday. I received an email from them within 20 minutes saying the order was ready to ship first thing in the morning. They gave me the tracking code so I could get updates until it arrived the 2nd business day later. I was surprised because these guys are in Ontario Canada and I am in New York, United States. Also when I got it as expected it worked great!

Response from Clean Furnace Oil Leaks, Diesel Spills, Gas Leaks, Remediation

Hi Jason,
We try very hard to monitor orders 24/7 and will email back right away. Many people call after hours and we call them back at night and on the weekends if they leave a message. When orders come in, if we can get the order delivery set before midnight, it saves 1 day in the process and that is what we did for your order. Thanks for giving us a great review and we're happy to hear it cleaned your oil stain stain from your concrete driveway.
Bill Fligg, President, Petro Buster Inc.
Removed old Oil stain from Concrete
January 18, 2019

I was working on my car in the garage over one year ago and had oil leak on the concrete and stain it. I finally got around to looking for a way to remove the stain. Found Petro Buster and ordered it. The order came fast within a few days. I followed the directions and Oil stain completely removed. The best part is that my wife is not mad at me anymore about it lol

Response from Clean Furnace Oil Leaks, Diesel Spills, Gas Leaks, Remediation

Hi John,
I really appreciate your feedback about Petro Buster! Nice to hear you were able to get the oil stain out of the concrete and keep the peace at home 🙂 Feel free to contact us anytime. Remember Petro Buster can be used to clean a wide variety of things and something you might want to have around the house.
Bill Fligg, President, Petro Buster Inc.
If you need to remove an Oil Stain from Concrete or any other surfaces, we can help you!
Contact us by phone 1-877-734-8204 or email us any time for advice and information about how to use our eco-friendly Oil Stain Remover from Concrete.