Clean Spills, Stains, Odors
Oil, Diesel, Gasoline
Petro Buster quickly and easily cleans & degreases in an environmentally friendly way!
Petro Buster breaks the surface tension between oil and water, making it water-soluble and allowing it to be emulsified. Then, Microbes in our formula naturally consume the petroleum Hydrocarbons.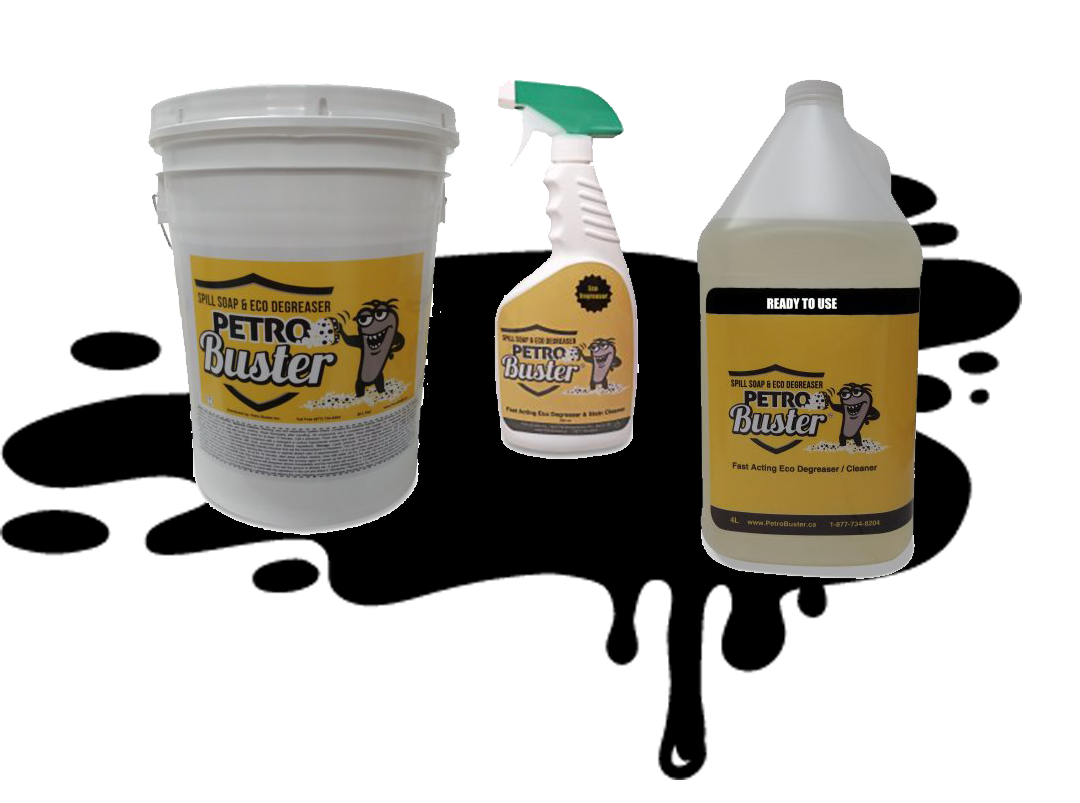 Works on Hard Surfaces
Concrete, Asphalt, Cement, Pavement, Stone
Works on Soft Surfaces
Carpets, Fabrics, Shoes & Clothes
Remediates
Spilled Oil, Gas, Diesel or Crude Oil from Water & Soil

Removes Stains & Odor
Oils, Diesel & Gas
Driveways & Garage Floors
Make them look new again
Industrial Degreaser
Cleans industrial floors and surfaces
Step 1
Petro Buster products break the surface tension between oil and water, allowing it to be emulsified immediately.
Step 2
When the oil is emulsified, the terrible smell and stains from Gasoline, Diesel, Heating Oil and other Petroleum Products is removed on contact.
Step 3
Petro Buster introduces Microbes that naturally consume the Hydrocarbons in Petroleum. Some people call it "Oil Eating Bacteria."
Works on Projects Big or Small
Whether your driveway oil change went wrong, or you're cleaning up an industrial fuel spill involving oils, diesel, or gasoline in soil or water, Petro Buster can help!
Our happy customers include everyone from the US & Canadian Navy and Petroleum Refineries and Distributors, to Home Owners and Commercial Property Owners.
Saved our new porch landing
We just had a new front porch and landing completed , made of natural stone. A person servicing our generator spilled oil in many spots across the landing. I called Petro Buster and they saved the day! I used their ready-to-go one time and the oil stain was gone. Here are my before and after pictures. Fantastic, thank you.
Response from Clean Furnace Oil Leaks, Diesel Spills, Gas Leaks, Remediation
Hi Judith, it was an absolute pleasure speaking with you on the phone both before you purchased Petro Buster to clean your oil stain and after. It was funny because you said you would find me if it didn't work, and you would find me if it did work. I love that kind of kidding around and really appreciate that you did take the time to call me and tell me how great Petro Buster worked on your stone stairs at the front of your house. I also really appreciate the pictures of before and after that you sent! Thanks again!!! Bill Fligg / President
Fantastic professional service and information.
Very informative and extremely helpful. Took the time to explain everything.
Response from Clean Furnace Oil Leaks, Diesel Spills, Gas Leaks, Remediation
Hi Renee, I really appreciate you taking the time to write this review. We very much enjoy working with our visitors to the website who use the chat and call to find out how Petro Buster can solve their problems much like yours. We also take calls after they have purchased to assist with the application of our product to ensure success. Your success with Petro Buster is critical to our success. We have over 20 years of years of experience working with Petroleum related issues and sharing that knowledge with you is very rewarding! Thanks again!! Bill Fligg / President
I'd give this stuff a 10 star review if I could
I'd give this stuff a 10 star review if I could. Recently moved and previous owner left a huge oil spill in the garage. Less than an hours work and petro buster got rid of it completely!!! Followed directions and it worked perfectly. Also great customer service. I called the company with questions before purchasing and got a call back from the owner very quickly and he did a great job of explaining the process. Thanks for such a great product.
Response from Clean Furnace Oil Leaks, Diesel Spills, Gas Leaks, Remediation
Hi Sue, I'm glad to hear things worked out well for you with Petro Buster cleaning up that oil stain in the garage. I have full confidence when people tell me what they are trying to clean, that if they follow the instructions, they will get good results. I really appreciate your kind words about my care and concern for our customers. Customer service is the most important part of being in a business like this and I love sharing my experience with our product to help our customers solve their problems with Petroleum. Thanks again!! Bill Fligg / President