Clean Spills, Stains, Odors
Oil, Diesel, Gasoline
Petro Buster quickly and easily cleans & degreases in an environmentally friendly way!
Petro Buster breaks the surface tension between oil and water, making it water-soluble and allowing it to be emulsified. Then, Microbes in our formula naturally consume the petroleum Hydrocarbons.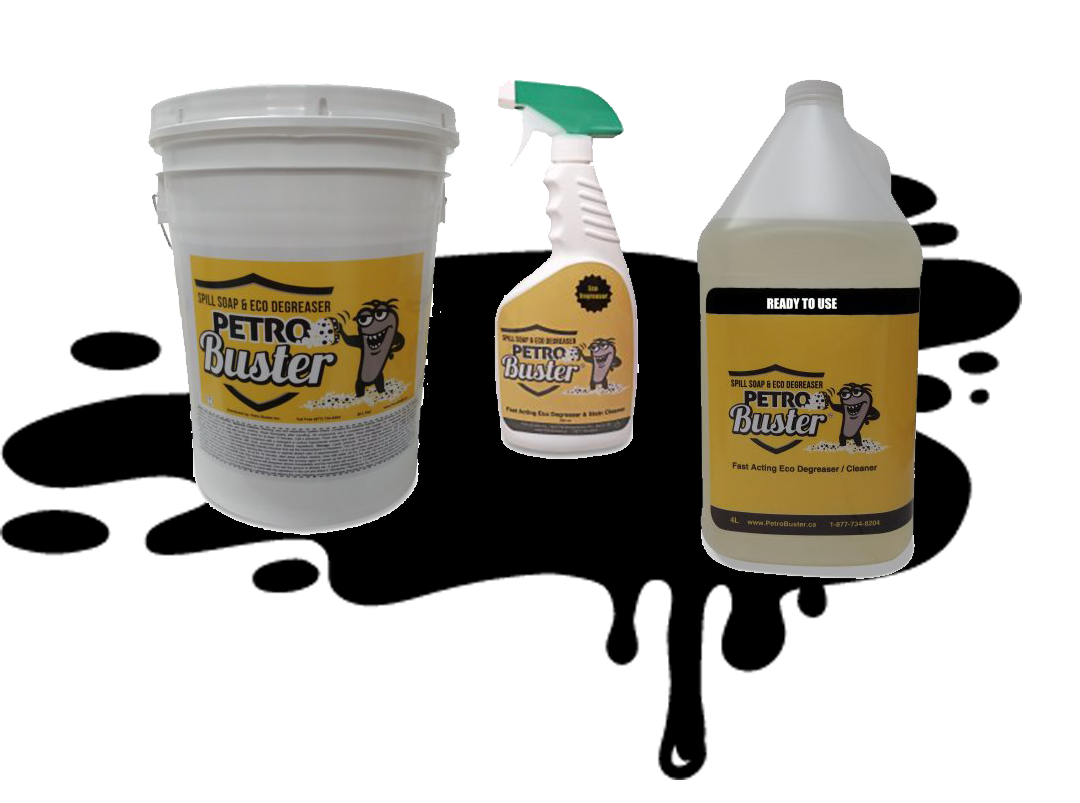 Works on Hard Surfaces
Concrete, Asphalt, Cement, Pavement, Stone
Works on Soft Surfaces
Carpets, Fabrics, Shoes & Clothes
Remediates
Spilled Oil, Gas, Diesel or Crude Oil from Water & Soil

Removes Stains & Odor
Oils, Diesel & Gas
Driveways & Garage Floors
Make them look new again
Industrial Degreaser
Cleans industrial floors and surfaces
Step 1
Petro Buster products break the surface tension between oil and water, allowing it to be emulsified immediately.
Step 2
When the oil is emulsified, the terrible smell and stains from Gasoline, Diesel, Heating Oil and other Petroleum Products is removed on contact.
Step 3
Petro Buster introduces Microbes that naturally consume the Hydrocarbons in Petroleum. Some people call it "Oil Eating Bacteria."
Works on Projects Big or Small
Whether your driveway oil change went wrong, or you're cleaning up an industrial fuel spill involving oils, diesel, or gasoline in soil or water, Petro Buster can help!
Our happy customers include everyone from the US & Canadian Navy and Petroleum Refineries and Distributors, to Home Owners and Commercial Property Owners.
Fixed the fuel leak in our home.
We recently had diesel fuel leak from our furnace into our home! The smell was terrible. Two quick and easy treatments with Petro Buster and the smell was gone. Great product. Works as advertised.
Response from Clean Furnace Oil Leaks, Diesel Spills, Gas Leaks, Remediation
Hi Tom, it is great to read this review and learn of your success remediating the heating oil leak at your home in Italy. Also happy to hear that it removed the fuel smell quickly as promised. It was also quite interesting to have an opportunity to send this to Italy and have your contractor learn about it. I appreciate your faith in our Product after our discussion about your situation on the phone. I hope your Contractor in Italy is impressed after having tried other things that did not work and did not have to dig out half your house to remove it. Thanks again for this review, much appreciated! Bill Fligg / President Petro Buster Inc.
Great and not just for fuel spills
Hi, I bought Petro Buster for a diesel spill from the garbage truck. It worked great. Then after talking to owner Bill, I used it to remove black marks from a golf shirt that nothing else worked. Then I used it to remove beer stain from carpet that nothing else worked. Thanks
Response from Clean Furnace Oil Leaks, Diesel Spills, Gas Leaks, Remediation
Hi Steve, I love this story and really appreciate you sharing it! This really is a testament to how diverse Petro Buster is at cleaning more than just Petroleum. We have people that use it on work clothes to remove Diesel and Oils, plus others use it to remove stains like Red Wine on carpets which I have no idea exactly why or how it works on Red Wine but truly interesting cleaning product. Hard to believe the range of use from cleaning and remediating Crude Oil, Diesel and Gas soil contaminations and Hard Surface stain removal of Petroleum, elminates Fuel Odors on contact and more. All the Best and thanks again! Bill Fligg / President
petro buster is amazing
i had a heating oil tank leak outside on the soil. i dont know how long it was leaking. I would say it leaked maybe 30 or 35 gals. i did not know what to do i was very frantic. i started to look up what to do. well i saw petro buster works on soil spills. i called and talked to bill the owner and he told me what to do step by step he is also one of the nicest people i have ever dealt with. so i ordered 2 pales. i received them and put 1 down 1 gal to 4 gal of water well as soon as i was putting down the smell began to dissapate. when i was finished putting down 1 pale it started to rain wich was great it was washing the buster into the ground which was great. i waited a day and put a little more down and washed it down with garden hose. that was a week ago and you would never know there was a spill execpt for some dead vegation. the owner is the best absolutly no b/s.
Response from Clean Furnace Oil Leaks, Diesel Spills, Gas Leaks, Remediation
Hi Ed, I really appreciate your kind words about me and it is great to hear how well Petro Buster worked cleaning up your Heating Oil (Dyed Diesel) leak in the ground. I take great pride in making sure we provide quick response and work through the cleanup details with our customers from years of experience. Such a rewarding thing to be able to help others with a product I believe so much in. In regards to the dead vegetation area, if Petro Buster was introduced there immediately after it happened, it would have prevented that, however now rest assured you can re-gro anything there including if treated propertly, it being safe for a garden with vegetables that you would eat. Wishing you all the best! Bill Fligg / President Petro Buster Inc.